# 36-1 The Prestige of Higher Education
Дата публикации: 06/28/2012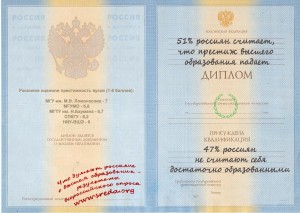 FACTS ABOUT HIGHER EDUCATION:
  1. Every second Russian does not feel himself educated enough.
 2. Most Russians believe that the prestige of higher education is falling.
 3. MSU stays to be the most prestigious institution of higher education in the country.
47% of Russians do not feel themselves educated enough.
More than two thirds of respondents with a less-than-secondary education or those who have only completed school, and every fourth diploma holder do not consider themselves educated enough. Every third professional and specialist does not consider himself educated, while among senior executives and entrepreneurs – only one out of six does not. 45% of Russians think they are well-educated.
According to the results of the Legatum Institute, an independent research institute, in 2011, Russia ranked 38th in terms of education, and in 2012 – 34th.
Do you consider yourself a sufficiently educated person? Vote on Vkontakte.
51% of Russians agree that the prestige of higher education is falling.
62% of Muscovites and only 40% of rural inhabitants, half of the population of the Central Federal District, and only a third of the Far East District agree that the level of higher education is falling. 44% of voters for Vladimir Putin said that the prestige of higher education is falling, while among the followers of Gennady Zyuganov, as much as 64% agree. 37% of Russians do not believe that the prestige of education is falling.
Do you agree with the fact that the prestige of higher education is falling? Vote on Facebook
76% of Russians assess the prestige of Lomonosov Moscow State University as 6-8 points out of a possible 8.
MSU also received the highest number of maximum rates: 63% of Russians rated the prestige of the main university of the country as 8 out of 8 points. In second place, with values of 6, 7 and 8 is MGIMO (73%), and in third is Bauman MSTU (70%).
Out of all Russian schools, only MSU got in the world's top universities, according to an app compiled by the British newspaper Times – Times Higher Education – with the participation of the information group Thomson Reuters and the public opinion research organization Ipsos Media. In this rating MSU was got 33rd place. Moscow State University (112th place) and St. Petersburg State University (251th place) got in the world ranking according to the company QS.
See also Prestige of Religious Education
The full distribution of responses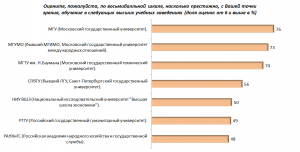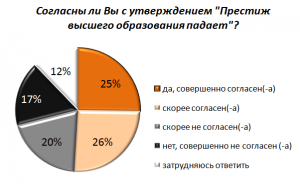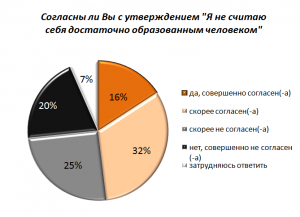 The press release is based on the results of a national survey in which the Russians were asked to note their agreement or disagreement with the following statements:
"I do not consider myself well-educated person"
"The prestige of higher education is falling"
And also rate on a scale from 1 to 8 points the prestige of the following universities:
HSE (National Research University "Higher School of Economics")
MSU (Moscow State University)
Bauman MSTU (Moscow State Technical University)
MGIMO (former Moscow State Institute, Moscow State University of International Relations)
St. Petersburg State University (former Leningrad State University, St. Petersburg State University)
State Humanitarian University (Russian State University for the Humanities)
RANHiGS (Russian Academy of National Economy and Public Administration)
For the use of materials, the source www.sreda.org must be cited