Presentation of the results of the research contest "Faith and religion in contemporary Russia"
Дата публикации: 12/03/2013
Dear contest participants and their friends, supervisors and their colleagues, students, undergraduates, graduate students, university teachers, and all of those who are interested in contemporary religious studies in Russia!
On Tuesday, December 17th at 18-00 we invite you to an event dedicated to the results of research contest for young scientists.
During the event:
• you will learn about the findings of the contest in the presentation,
• meet members of the jury and the guests of the presentation,
• awarding ceremony will be held.
After the event we offer you:
•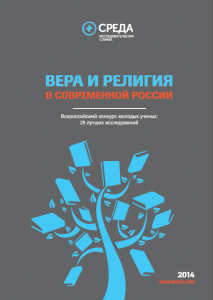 bookcrossing. You will be able to exchange books and magazines on religion. Bring and exchange!
• treat!
Moreover: each guest will receive a collection of the 25 best research papers submitted for the contest!
Address: Moscow, metro Preobrazhenskaya Ploshchad, B. CHerkizovskaja str., building 4, block 1, Russian State Library for Youth

Join the meeting VKontakte
Join the meeting on Facebook
Contacts: science@sreda.org, 8968 542 08 42, Ksenia
Registration for the event is required! Send your applications to science@sreda.org. Application should contain:
1. Surname , name, patronymic
2. Who are you and why did you decide to come to the event (Beware if you are a member or supervisor of the participant of the contest, please, specify it!)